Cadillac introduced its first production four-door hardtop, the Sedan DeVille, in 1956.
When Cadillac redesigned all of its standard models for 1957, the Sixty Special adopted the pillarless design as well. Priced at a hefty $5,539, the 4,761 lb (2,160 kg) (shipping weight) Sixty Special production reached an impressive 24,000 units – a sales plateau that the nameplate would never achieve again.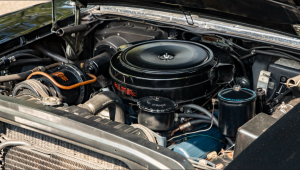 .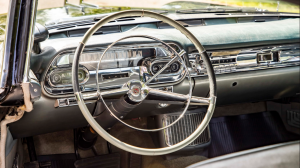 .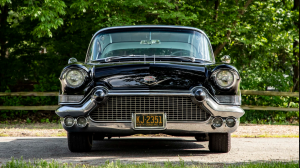 .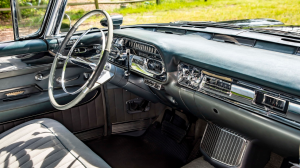 .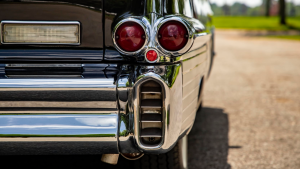 .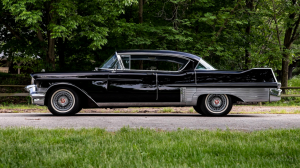 The chrome fender louvers, a Sixty Special trademark since 1942, were gone in favor of a giant ribbed metallic panel that occupied the entire lower half of the rear fender. The Sixty Special script was located on the lower half of the front fender, and was relocated to the top of the rear fin for 1958, and the word "Fleetwood" was spelled out in block lettering across the trunklid.
Engineering treats included moving the optional air conditioning unit from the trunk to a space under the hood, and a foot-operated parking brake that released when the car was put in gear. The 365 cu in (5.98 L) engine introduced last year was now bumped up to 300 hp (220 kW).
In spite of all-new sheet metal on the 1957 models, much of Cadillac's attention was focused on the new limited production Eldorado Brougham. This new four-door model did not pose a threat to Sixty Special production, since the new Brougham was a hand-built, limited-production specialty model with a stupendously steep $13,074 price tag – more than double a new Sixty Special. Power windows and brakes were standard.[4] A pre-selector radio was optional.
1958 saw extensive design changes, even though the cars were entirely revamped for 1957.
Horsepower from the 365 cu in (5.98 L) engine was now at 310 hp (230 kW). Sparkling "studs" decorated the wide new grille, while the rubber-tipped bumper guards were moved further out towards the edges of the car – leaving a lower, wider look. Four headlights, a style that appeared on last year's Eldorado Brougham, were adopted for all Cadillacs, including the $6,117 Sixty Special.
Full fender skirts practically hid the rear wheels from sight, and the massive ribbed stainless steel trim occupied the lower half of the rear fender. Small vent windows were added to Sixty Special's rear doors, and newly available power door locks were optional.
This marked the last year that the Sixty Special would maintain a stretched GM C-Body until its return in the 1965 model year. The model year 1958 would also be the last that the Sixty Special script would actually appear anywhere on the car. Sales for the 4,930 pound (shipping weight) car slid to 12,900 units – nearly half of last year's production.